Construction and maintenance of gas boilers
The company "LIMIK" offers design, installation and construction of boilers. We carry out turnkey work - from obtaining technical conditions and design to commissioning and service.
We design, build and service industrial boilers of various types from 100 kW to 20 MW. The specialists of "LIMIK" will choose the most optimal solution for the heat supply system, based on the existing conditions and necessary technical characteristics. Typically, boiler houses are classified according to their location and type of boilers.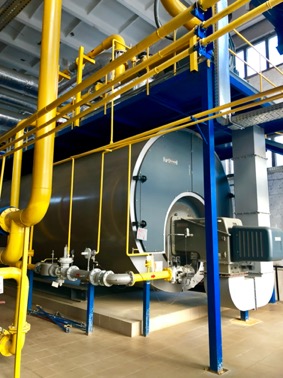 Construction and maintenance of alternative fuel boilers
The company installs solid fuel boilers with capacity from 0.25 to 30 MW, additionally an automatic combustion system (pre-combustion chamber, bulk fuel hopper with metering stacker and two gearbox drive gear reducers and electronic control system) is installed. To ensure the necessary traction during the operation of boilers (from 0.25 to 30 MW), smoke exhausters are installed. It also installs power equipment (mains, feeders and recirculation pumps) and, if necessary, external engineering communications (pipes, heat lines) as well as cyclone cleaners and electric turbines